Rockingham Bridges-I91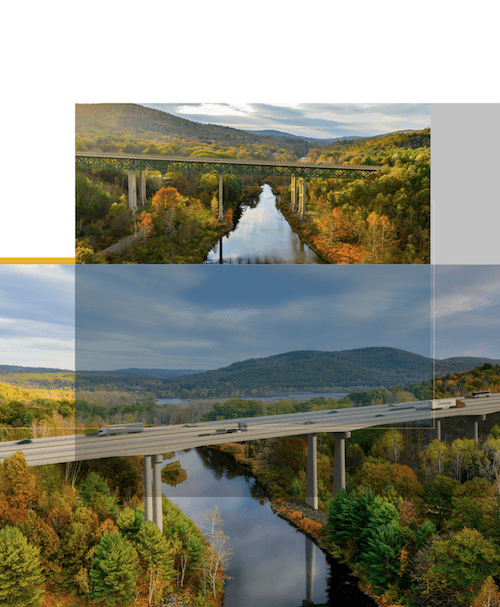 The Vermont Agency of Transportation in conjunction with the design/build team of Reed & Reed, Inc. will complete bridge replacement on the I-91 bridges #24S & 24N over the Williams River in Rockingham, VT. This project has an anticipated completion date of June 15, 2020.
I-91 NORTHBOUND & SOUTHBOUND ARE REDUCED TO ONE LANE WITHIN THE CONSTRUCTION ZONE.
---
I-91 NORTHBOUND MOTORISTS SHOULD BE AWARE OF MERGING RAMP TRAFFIC ENTERING THE ROADWAY! 
PLEASE USE CAUTION!
---
Anyone with questions or concerns regarding the project may contact Stephanie Barrett, Public Relations Officer at 802-862-6085 or toll free at 866-602-6868.
Follow us on Facebook    Follow us on Twitter (#91rockbridges)  Live Traffic Camera
Monday, May 21, 2018 at 1:00pm there will be a short I-91 southbound rolling road block to allow for some minor bridge deck maintenance.
Continue work on girder erection support tower on Pier 1
Complete installation of beam support towers for Piers 2 & 3
Continued work on Abutment 1 footings
Continue moving trestle beams to accommodate for beam erection
Truck traffic on Golden Hill Road